Description
5/10-Year Warranty
If something goes wrong, you can count on us to make it right, fast! All desks, 5-year on electrical and mechanical, 10-years on the desk frame. Learn More
Free Shipping
Shipping Daily! Free FedEx ground shipping to all Canadian provinces with tracking.
Made in Canada
Our desktops are Manufactured in Canada from sustainably sourced Canadian materials
Desktops manufactured in Canada from responsibly sourced materials, the Vantage is available in Audacity (dark woodgrain), Forever Walnut, Nova Black & Nova White.
Our desk features high density wood fiber with thermally fused laminate, edges are finished with a durable 3mm PVC band.





Desk Frame
Dual extreme durability internal electric motors
LED digital position readout: 3 programmable heights
Load Capacity: 319lbs (145kg)
Movement speed: 1.5″ (3.8cm) / second
Sound level: < 45db
Height adjustment range (including 1″ desktop): 23.6″ – 49″ (60cm – 125cm)
Frame width adjustment range: 43.3″ – 74″ (110cm – 190cm)
Six Axis Adjustable Sensitivity Collision Sensor
Desk Surface
Dimensions: 54″L x 30″W x 1″H (137cm x 76cm x 2.5cm)
Available in Audacity (dark woodgrain), Forever Walnut, Nova Black, Nova White.
1 Year Warranty
-BIFMA certified 
-RoHS (EU) certified
-ULC certified
-RCM certified
If something goes wrong, you can count on us to make it right, fast! All desks, 5-year on electrical and mechanical, 10-years on the desk frame. Learn More
We provide Free shipping for all Canadian provinces.
The Vantage desk ships from our Montreal fulfillment center the same day or within 1 business day following the order.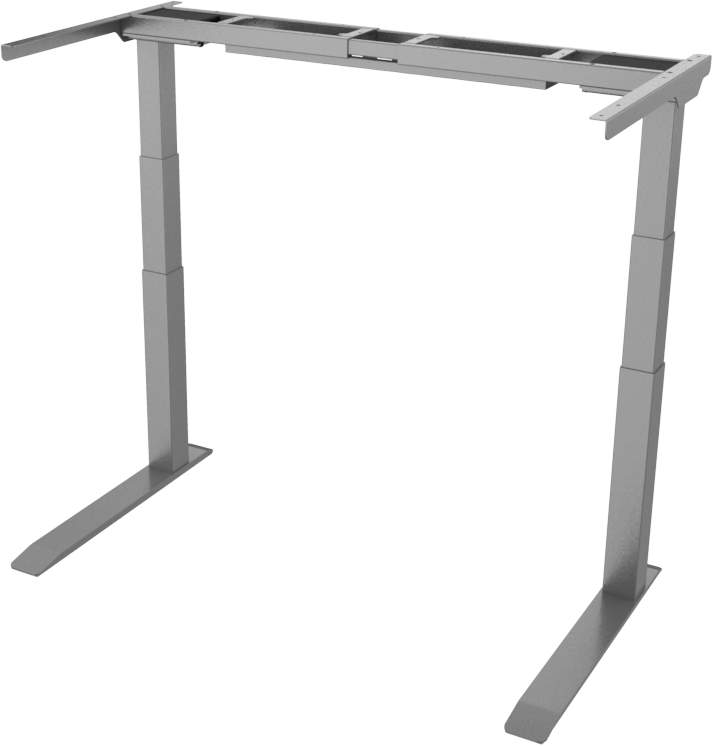 C-Frame Version of Vantage Plus
The Contour is a C-frame variant of the Vantage Plus with identical electronics (control box and motors) and is currently available in Grey.
C-frame vs. T-frame - How to Choose
The T-Frame is a symmetrical design with the desk legs being centered on the feet, providing you with equal space in front of and behind the desk frame.
The offset legs of the C-Frame are ideal if you need to place heavy loads toward the rear of your desk surface. The recessed frame allows for mounting accessories like a keyboard tray, or hanging a tower computer chassis under the desk.
The C-Frame feet are longer at (27" vs. 23 5/8"") providing some additional stability making this is the heaviest, and most stable desk we currently offer.
Robust Commercial Grade Design
Most competitor two motor desk frames weigh in around 60lbs, the Contour is an unusually heavy stand desk frame weighing over 70lbs. Heavy gauge steel tubing, 4" wide - 3-segment square profile legs, 27" feet and a unique frame design all come together to deliver a stable workspace you can trust with your most valued equipment..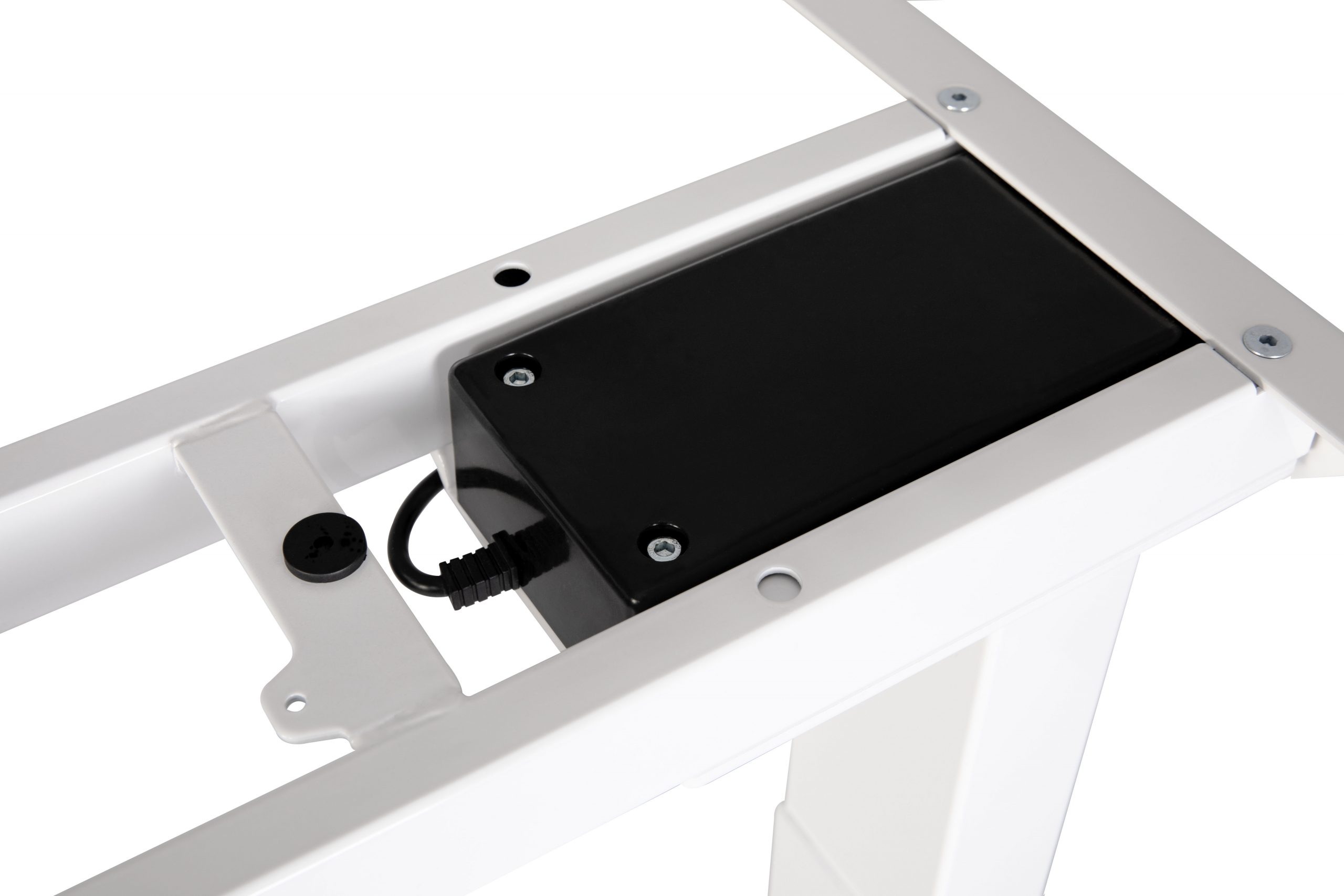 Easily capable of lifting the rated 319lbs, tested for thousands of cycles you can count on the Contour to deliver reliable, heavy lifting.
Operating sound level tested at 45db or less. Some electric desks are fast but noisy, while some use slow but quiet motors. The Contour moves at a speedy pace of 1.5"/second with a sound level rating of 45db.
Three Position Memory
Find your optimal positions for sitting and standing and memorize them with the keypad's three memory presets and your favorite height will be a touch away.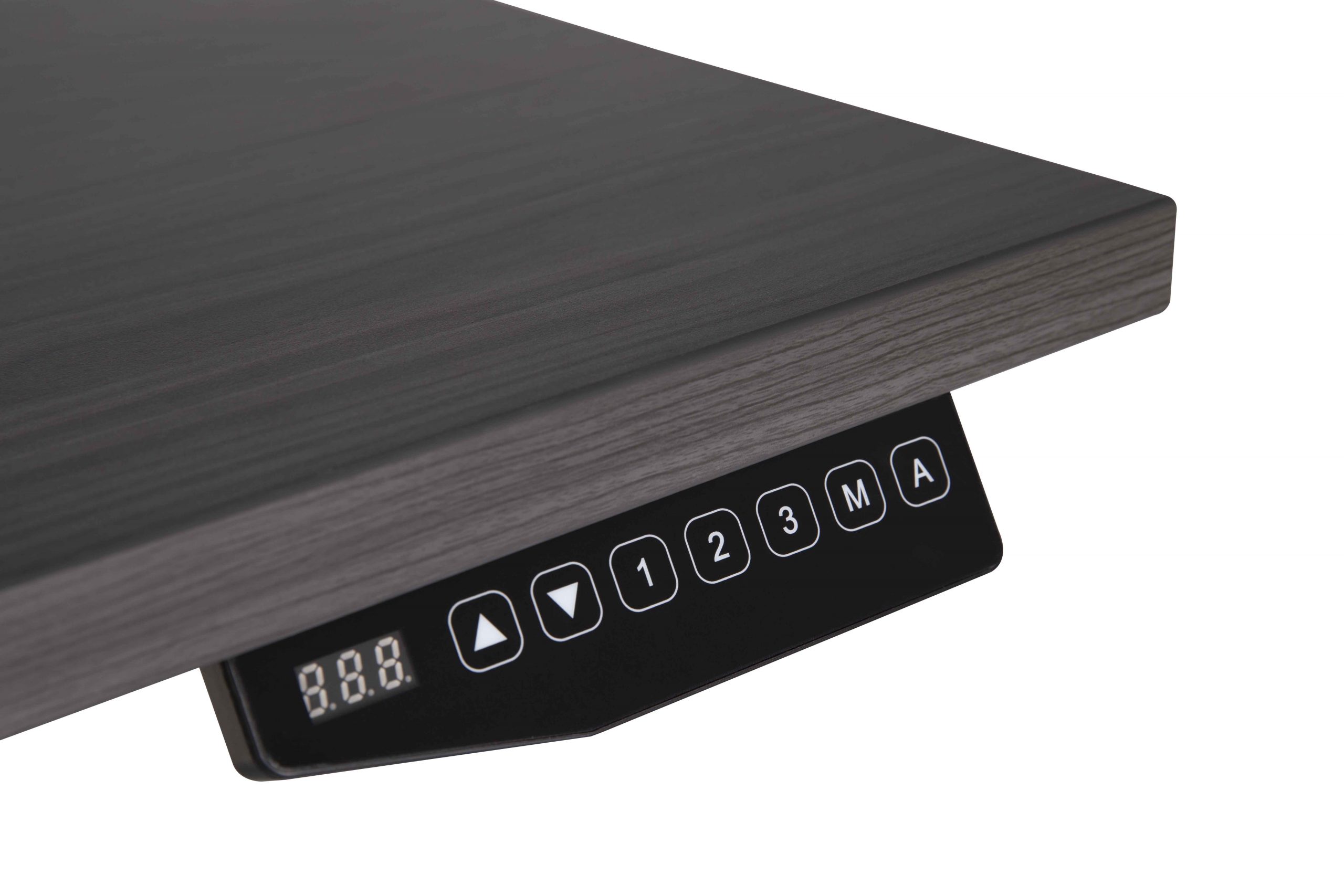 Want to Supply Your Own Desktop?
At the top of the page, choose the "No Desktop" option in the desktop style section box. All our desk frames ship with the hardware you need to attach a solid wood or laminate desktop.